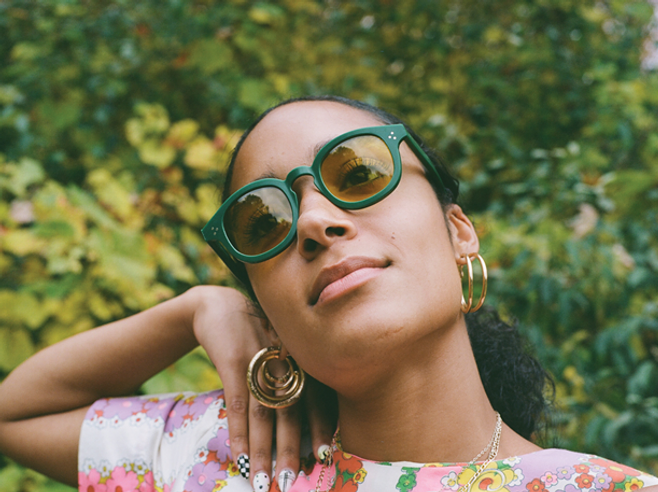 Insight
Visioning a Positive Future Through an Empathy Lens
Restore Our Earth™ is the theme of this year's Earth Day celebrations, of which one of the focuses is exploring "innovative thinking that can restore the world's ecosystems." At GrowthWorks, we profoundly appreciate innovation and the power it has to positively impact our collective future. In honor of Earth Day, we are highlighting a company whose innovative designs we find to be tremendously inspiring – Genusee, a sustainable eyewear company based in Flint, Michigan.
What impresses us the most about this brand is how it combines innovation and empathy. For GrowthWorks, these are driving forces we think can help organizations thrive in a world forever changing. At the core of this is empathy, which we describe as holding a deep understanding of who you are serving in the world, why, what they are experiencing, and what they need.
Sparked by her volunteerism during the Flint Water Crisis, Genusee Founder and CEO, Ali Rose VanOverbeke – a trained designer with a successful career in fashion – sought to find a remedy. She observed how residents were supplied with plastic water bottles in the midst of the water crisis, turning one environmental quandary into another. She also learned how many residents lacked access to gainful employment – a major barrier to social and economic justice. Designed from a place of empathy, her innovative solutions enabled the Genusee company to create a multi-pronged positive impact.
Once VanOverbeke identified the community she intended to serve (Flint) along with some of their most pressing needs (healthy environments and access to fair wage jobs), she invoked her design skills to innovate around these problems. Her solution? Transforming "the surplus of plastic waste caused by the man-made water crisis into closed loop eyewear." Flint residents are employed to manufacture the eyewear, learning new skills along the way. With each pair of glasses, 15 single-use plastic water bottles are up-cycled, meaning they are re-used to create a more valuable product. Once produced, Genusee partners with their customers to take responsibility for the eyewear, ensuring they don't contribute to plastic pollution.
Genusee "prioritizes the use of pre-existing materials in the supply chain over creating new ones." This concept is typically referred to as a circular (or closed-loop) economy. Not only are plastic water bottles being upcycled, but when a pair of Genusee glasses is no longer in use by their original owner, instead of ending up in a landfill, they are returned into the system. Genusee runs a Buy Back program that purchases used glasses from its customers and either recycles the materials or refurbishes the eyewear for others in need.
In addition to the environmental benefits, Genusee is creating positive social impacts. A pressing need in Flint is greater access to fair wage employment opportunities. Through on the job training, manufacturing eyewear provides a way for people to learn a new skillset and doesn't require a college degree. Moreover, Genusee works with the local non-profit MADE Institute to "create jobs for a diverse population in Flint including the structurally unemployable, returning citizens, and individuals with disabilities." Recently, Genusee has begun collaborating on designs with artists "who align with the company's commitment to making long-term social and environmental impacts on Flint." Their first collaboration was with local artist, Amanda Edwards who inspired the Water Warrior Green color.
As a result of the water crisis, many children in Flint suffered from lead poisoning and the associated trauma of living through such a difficult experience. To give back, 1% of Genusee's net profits are donated to the Community Foundation of Greater Flint. The donations support programs that address and mitigate the negative impacts of the water crisis on Flint's future: their children.
Genusee is a perfect example of how developing innovative solutions can be inspired in a variety of ways. Founder VanOverbeke is not an environmental engineer or social worker, she is a trained fashion designer. Nonetheless, with her unique skill set and deep understanding of the situation, she is making positive environmental and social impacts. The call out here is that innovation and creative problem solving do not necessarily require a certain field of expertise; success can be well served with vision and an empathy that aligns an organization closely with the needs of the people it serves.